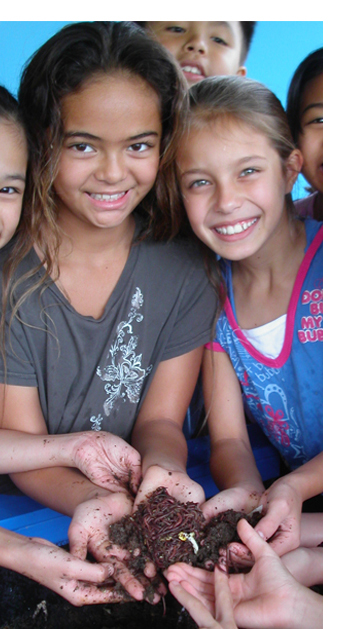 Vermicompost at home!
Epigeic – or composting – worms are not native to Hawaii, but are long-established in the Islands, typically found on farms where they decompose animal manure as well as any other kind of moist, rich decaying organic matter. With worms' ability to process their weight a day in food scraps, vermicomposting is the perfect solution to reduce household waste.

Composting worms produce vermicast, a nutrient-dense, microbially-active soil amendment often referred to as "Gardeners' Gold."

Hawaii schools are the source
Waikiki Worm Company manages large colonies of Eisenia fetida and Perionyx excavatus who eat lunch leftovers at four Zero Waste Kailua schools. Your worms will be pulled from the worm bins at Ka'ohao Public Charter School, Kainalu Elementary, Kailua Intermediate School or Ka'elepulu Elementary.




Photo: In 2007, Hokulani Elementary was the first Hawaii school to install a large-scale vermicomposting system, sponsored by the City & County of Honolulu Recycling Office.